Hello all, I thought I would document this kitchen backsplash process because there are a lot of different ways to do it. Some of your options…
-use thin-set mortar to tile on painted drywall – not very strong but probably adequate considering kitchen remodels seem to be built to last only last 10-15 years these days.
-use thin-set mortar to tile on cement board – very durable, what you would use in a shower but the backsplash is exposed to much less water. Would probably last over 100 years before tiles started falling off
-stick-on tiles – seems sketchy but probably works as good as the first option

So I used cement board but that was because I needed to bring the tiles out from the wall a bit for two reasons. Don't know why but there was over an inch gap between the back of the range top and finished drywall. After adding 1/2″ hardibacker to that wall and tiling it, I had it down to about 3/8″ which is much better.
On the wall with the window, I wanted the tile to be nearly flush with the trim and also cover up some gaps left between the wall and cabinetry. Otherwise I would've had to get some trim (like quarter round) and put it around the edges and that looks cheesy in my opinion.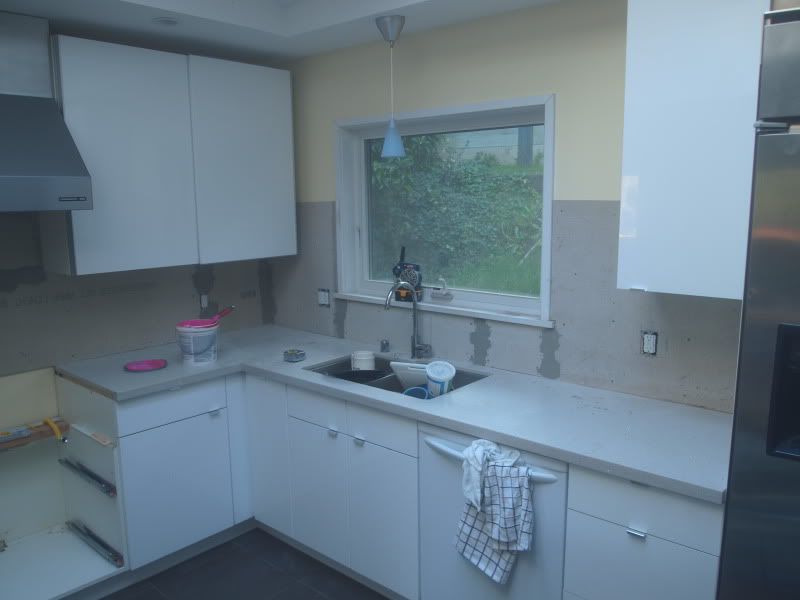 The glass tile box recommended a special type of thin set. My kitchen was taken apart before I realized this (no time to order the special stuff) so I used some red guard which is a "crack suppressant" instead. The glass tile, Daltile Glass Reflections, is very thick, at least 1/4″, so I really doubt it would crack but hearing horror stories of coming back the next day to find all your tiles cracked was enough to warrant the extra step. The red guard is pictured below and is pink until it dries red.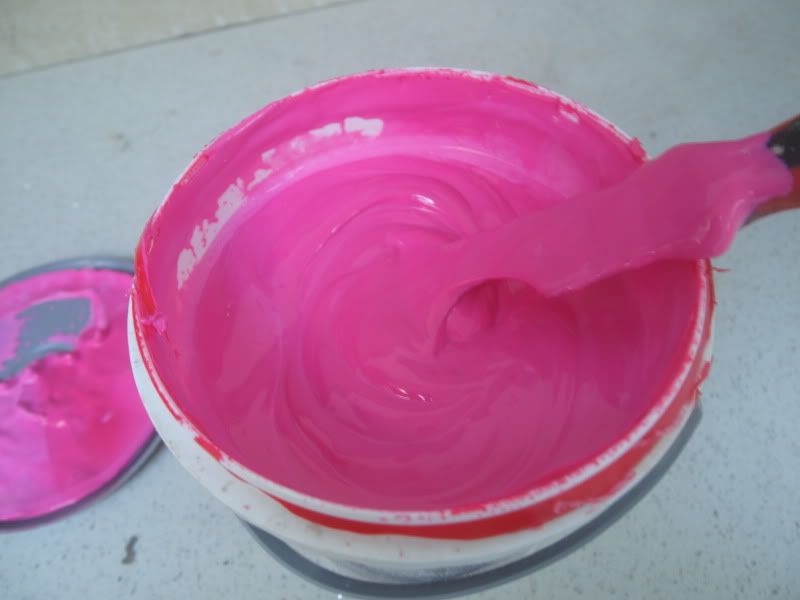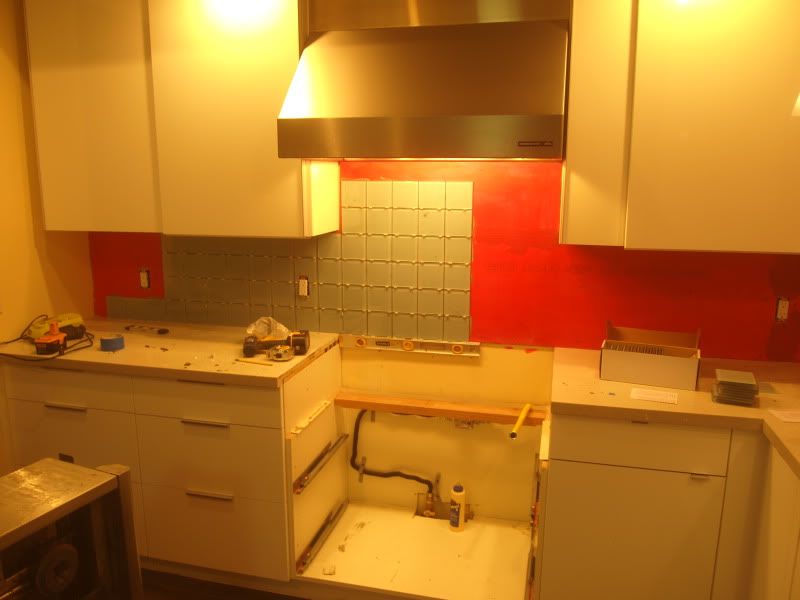 Tiled: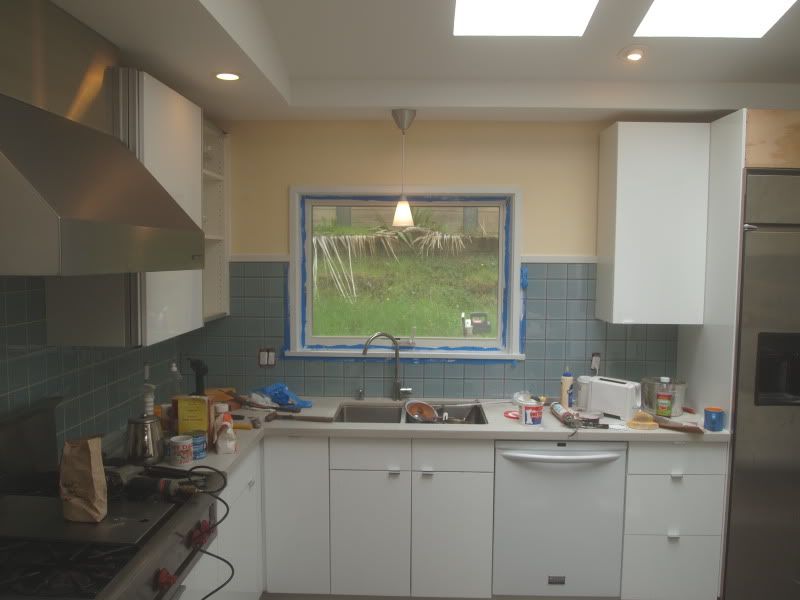 Grouted:

I used urethane grout which is outrageously expensive (10x that of normal grout) but it's easy to install, doesn't need to be sealed and should last forever without stains. Regular white grout would become dirty and stained quickly because moisture can travel through it meaning mold or bacteria can grow in it. Oil or other scum can also get locked in. Urethane grout is waterproof and extremely durable so it can be scrubbed clean of surface dirt that gets caught in the texture on the surface. Another option is epoxy grout which is just as durable and much cheaper but very hard to install because epoxy is a nasty, sticky mess which is hard to wipe off the surface of the tile during the clean up phase of the grouting process. So although the urethane is extremely expensive, it should be bright white for many years to come (or I'll be really disappointed).

The tile looks really good but I'm having a hard time finding color to go with the gray blue/green tile. As you can see the bright blue looks kinda cool but tile has a lot of grey in it so I think I need to match it with a more neutral color.