The floor tiles have arrived! You might think I'm crazy, but I found the perfect polished black slate tiles at home depot for $3/s.f. – the only problem is they're 12″ square tiles and I need 3″ for the shower and 6″ for the floor – so I have to cut ALL THE TILES ON THE ENTIRE FLOOR! Actually I estimated 6″ black slate tiles and mosaic for the shower pan to be upwards of $8/s.f. if I could find some that matched the accent strip for the shower as well as the ones I ended up ordering. So the difference in price was about $200+ dollars that I could spend in labor cutting the tiles. The shower tiles took and hour and the floor tiles took another hour – only costing about $50 bucks to cut. So I got the perfect tiles and saved some money – win/win!
Here are the cut shower tiles: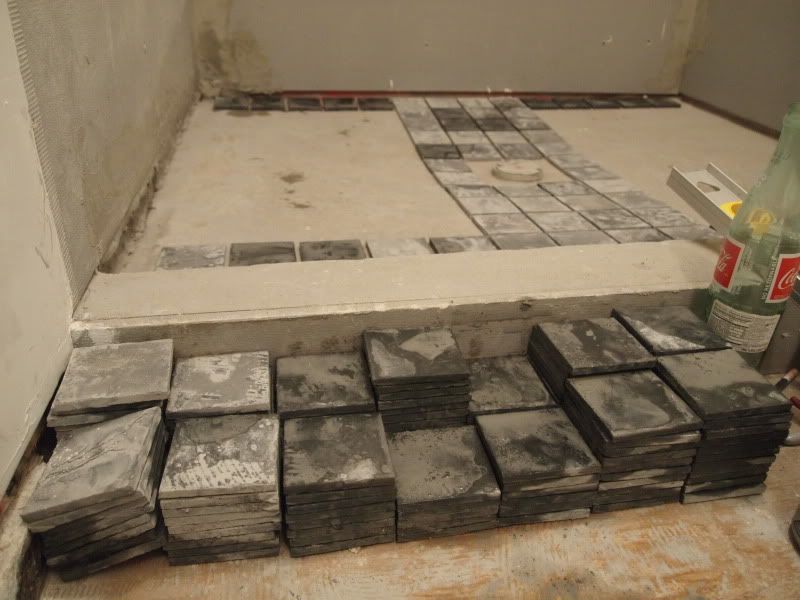 Here they are laid out in the shower pan: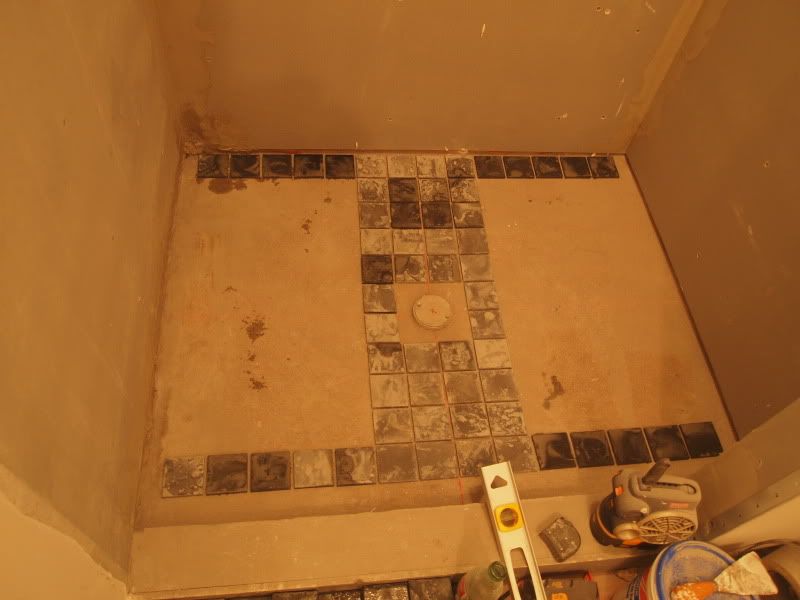 Layout is very important with small tiles to make sure you don't land on a sliver because it will expose the imperfections of your walls and look bad.
I also decided to move the lights from the original "vanity bar" chrome strip of bulbs set above the mirror to two wall sconces on either side of the mirror. I had to move the wire to a junction box and then mount some boxes on either side and get 14/2 wire to them.


Here they are in place; the vanity has also been put in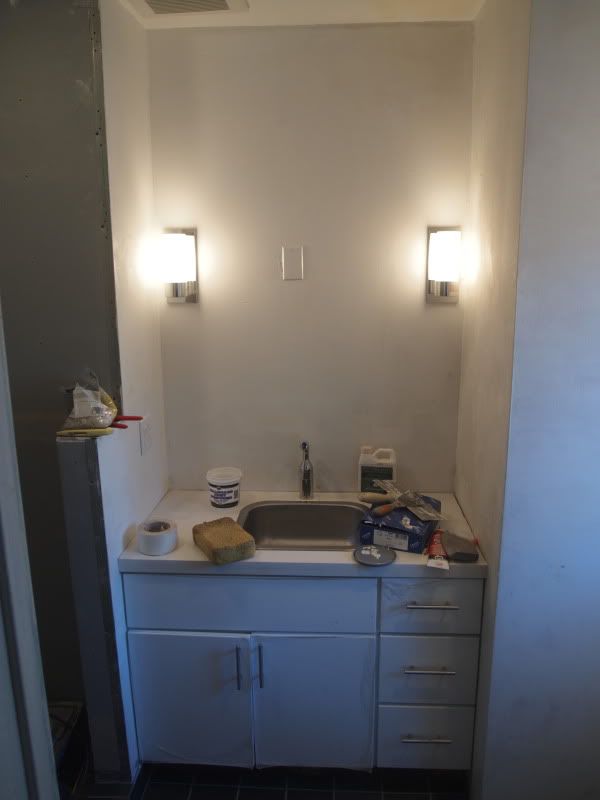 For the vanity we had framed for a standard 42″ so it was really cheap from the chinese import stone shop. I also got the plain stone top at the same place (Granite Expo). It was on sale so a 10′ section cost $100! It's a sweet deal for a countertop that is coming back into fashion. Cutting it myself wasn't fun and I had to use a top mount sink to cover the cutout.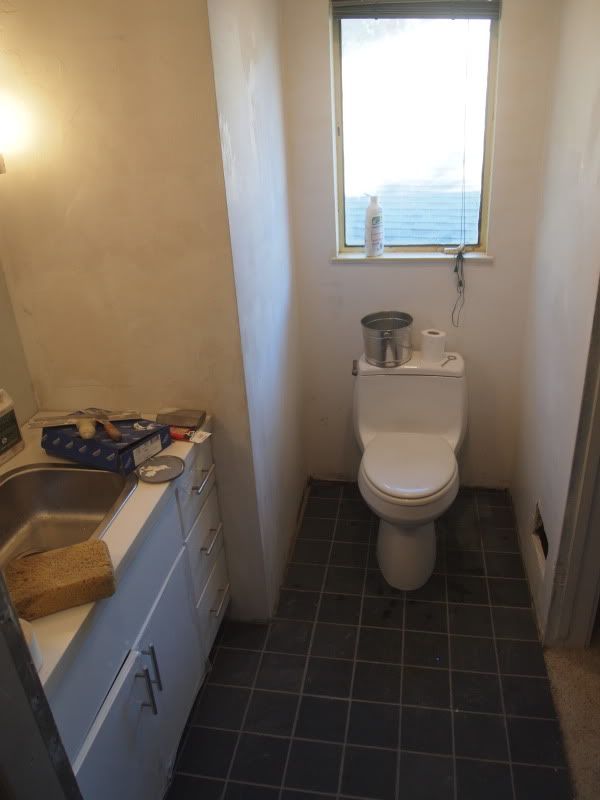 Above you can see the 6″ floor tiles. 12″ floor tiles in this bathroom would've accentuated the small size of the room.
Below you can see the shower pan and threshold have been tiled. I chose 12″ wide tiles for the threshold because they are more durable in an area that gets a lot of stepping and water. I'm really pleased with how the floor turned out! Maybe I'm not crazy after all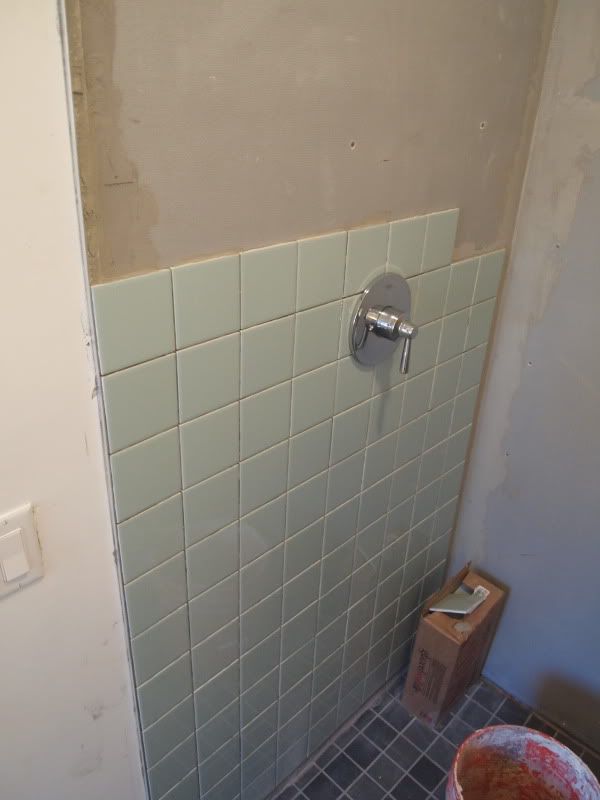 Starting the green ceramic 4.25″ dal-tile "Spa" tiles. Basic Grohe valve with rainfall showerhead. I like these because they help bridge the gap between modern and mid-century modern design. It's very important to me to keep the style of the house in mind when I remodel.
More tile, see below the intense mosiac tile accent and the cut out for the shampoo box.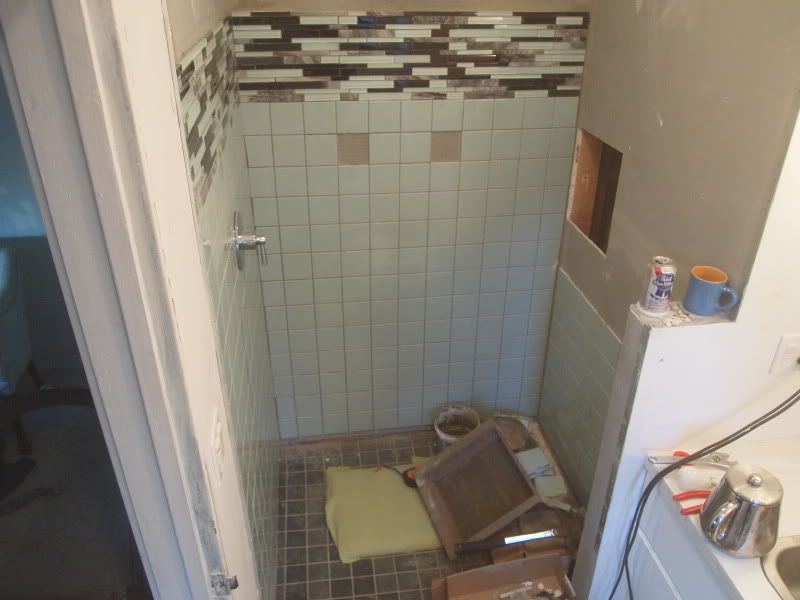 Here's a close-up of the awesome accent tile: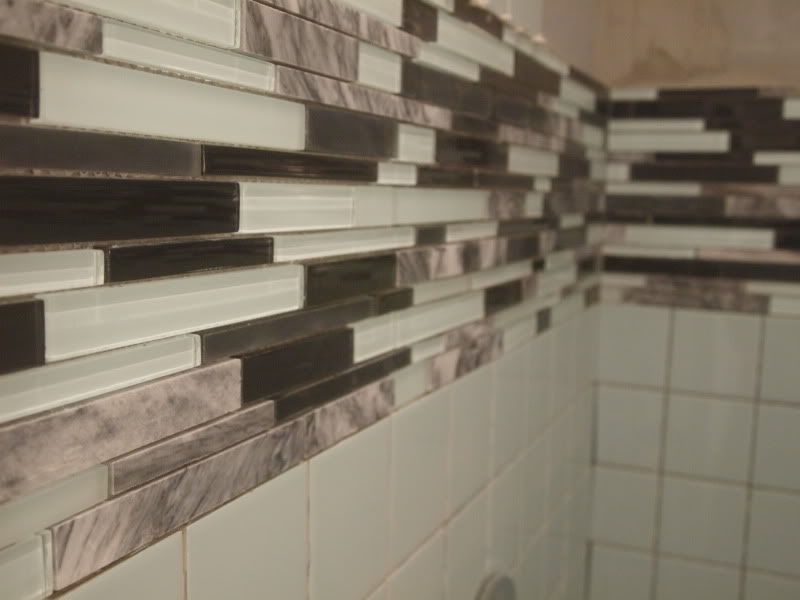 Here is the prefab shampoo box sealed in place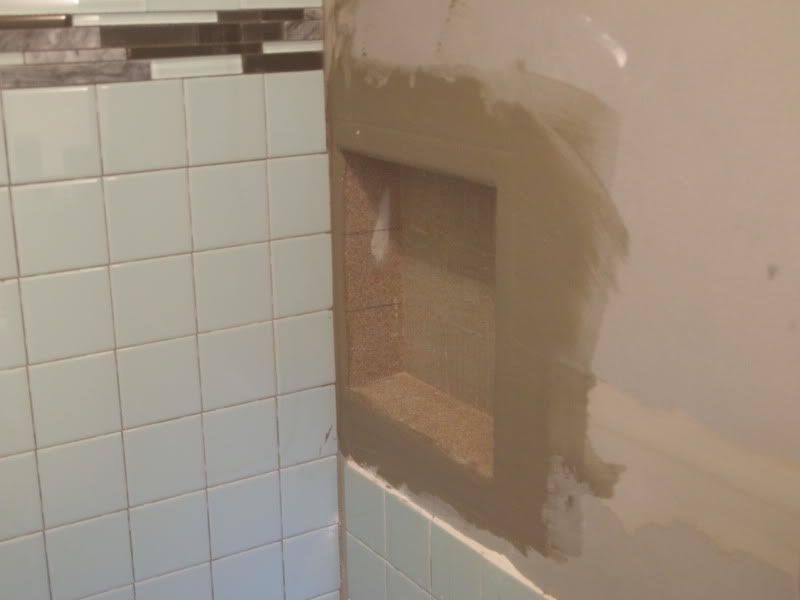 Change of plan! Originally the tile was going to go to the ceiling but the ceiling was way off level. So I'm going to stop about a foot below the ceiling

That's all for now. I'll post pictures when it's all done