SOLD
472 VALLE VISTA AVE
Adorable and charming 2 BR, 2 BA+ office area, completely renovated with permits. 1/2 Block off Grand Ave, Walkscore of 97! Tons of natural light! Large open granite kitchen with gas cooktop, stainless steel appl. , inside laundry and eco friendly bamboo floors. One car attached garage. Open 2-5 9/25. More info
I finished the neighbor's kitchen and I think it turned out really well!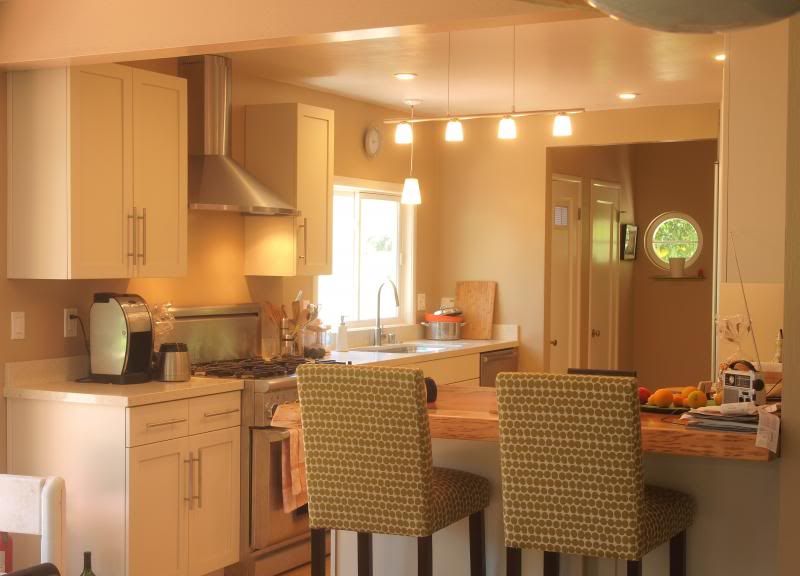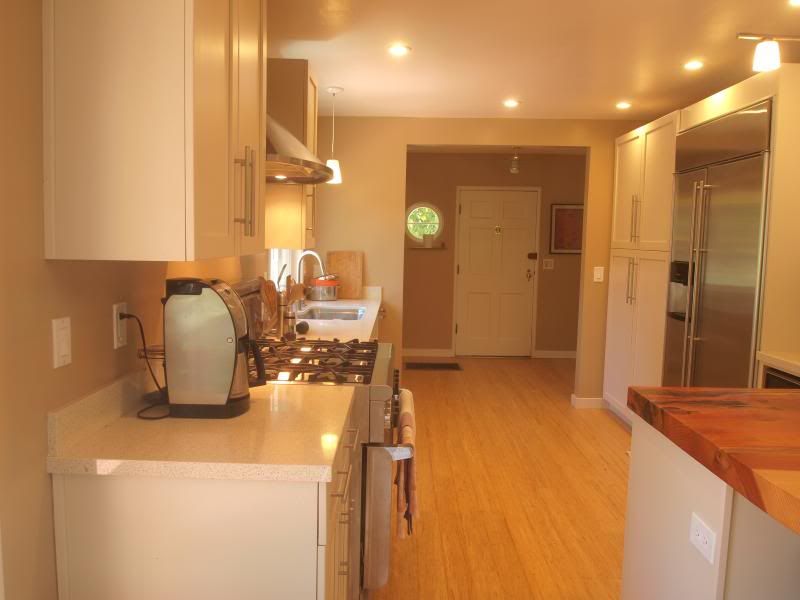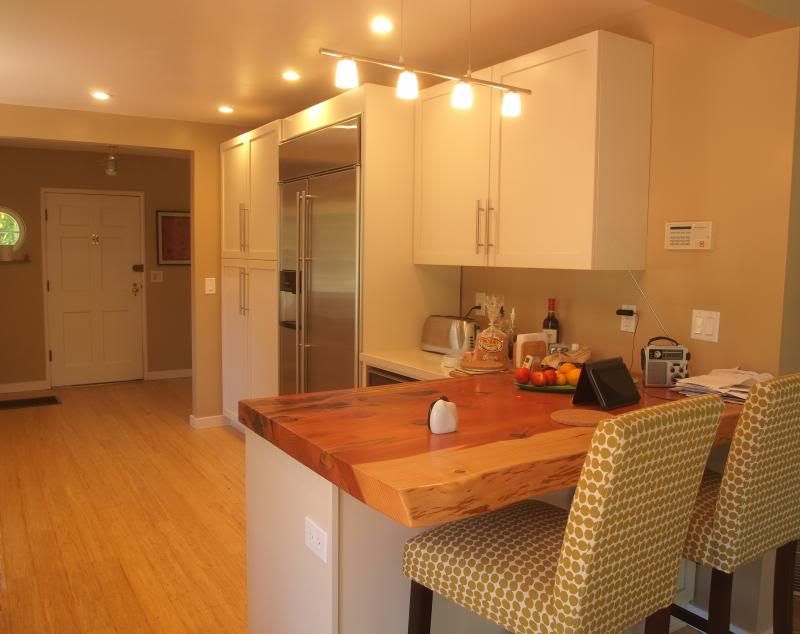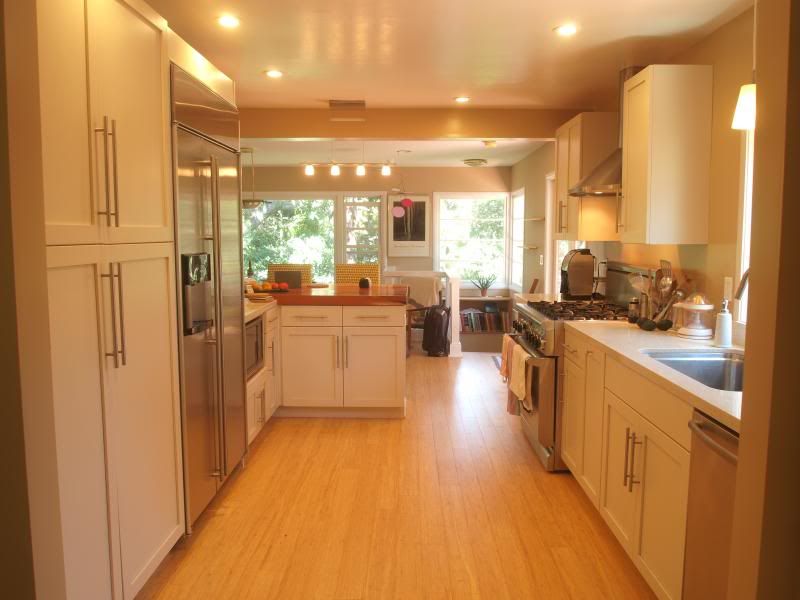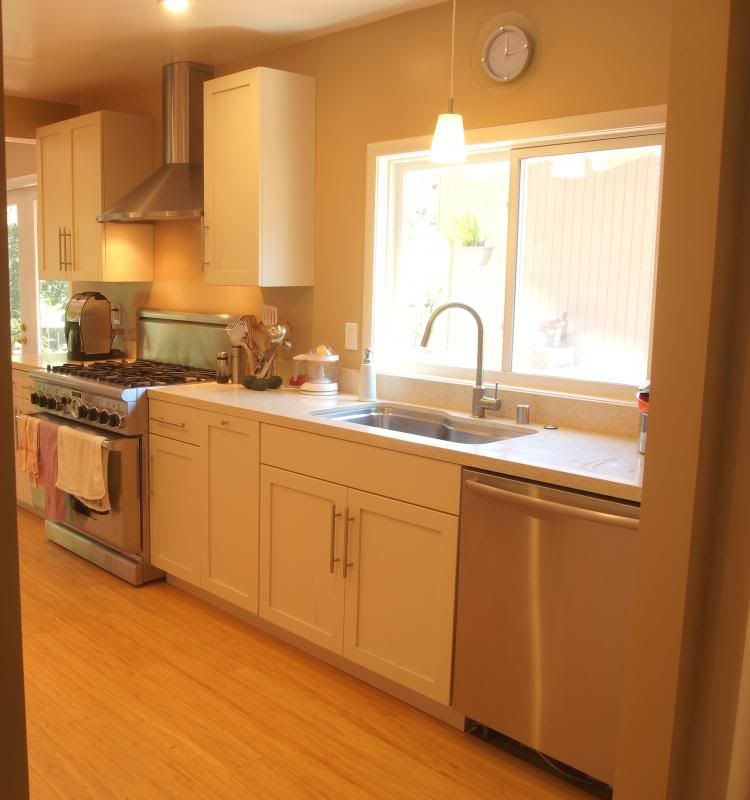 ---
I will admit it: my house is ugly. Really ugly. But that's all about to change. The weirdest thing about the face of my house is the illegal sunroom built over the upper deck. See it here: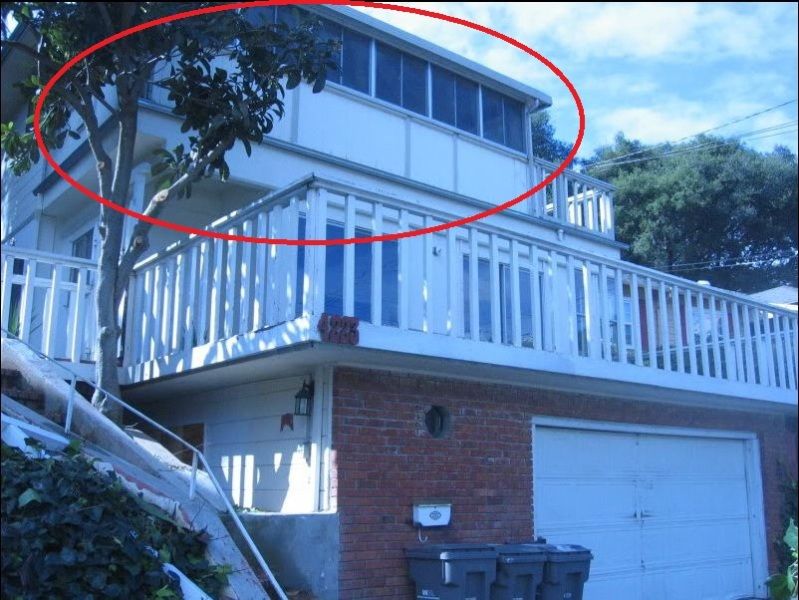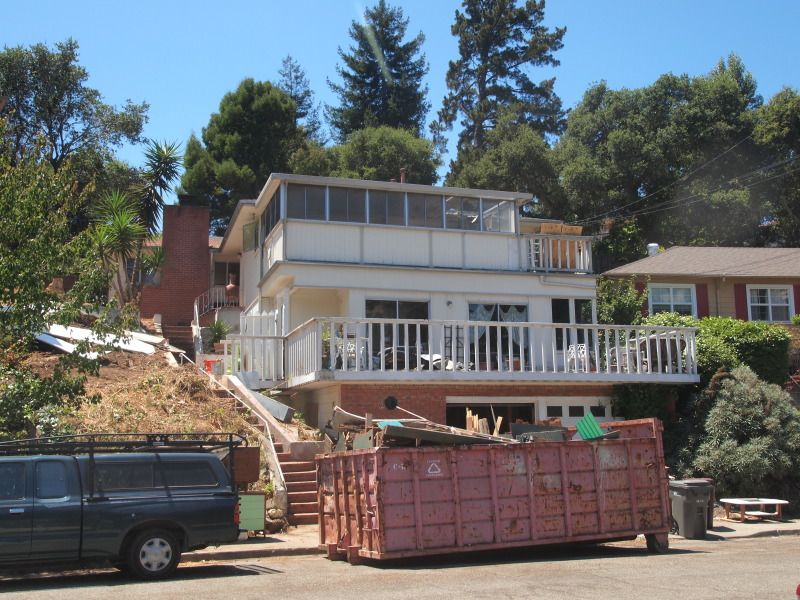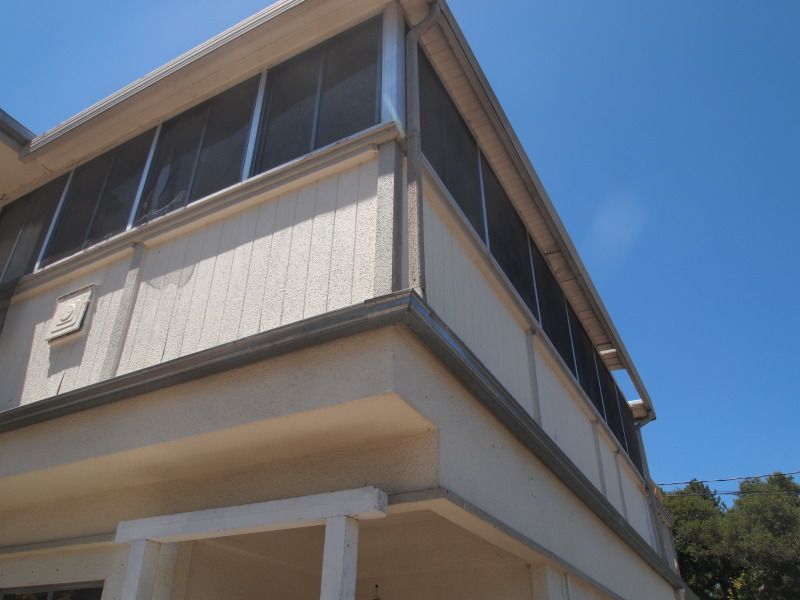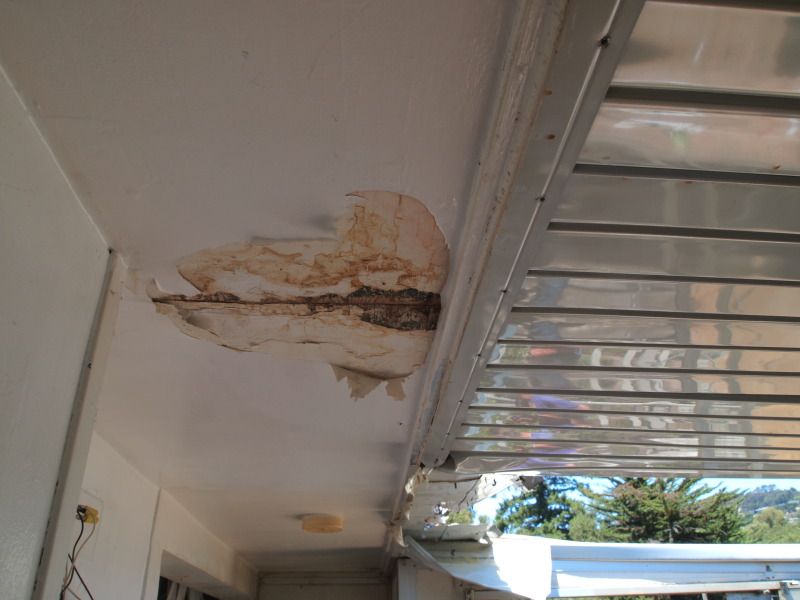 Above you can see where the crappy sunroom connects to the original front of the house. The roof was not built properly and it has been leaking.
From what I can tell the house was originally built in 1954 with one HUGE lower deck. Then in the 60s, a room was added to the lower deck with a deck on top of it, creating the awesome two tier front decks. A small kitchen was also added at this point, creating a LEGAL in law unit downstairs, which is lucky because the neighborhood is zoned for SFH (single family homes) only so I am probably one of the only people in the area with two legal kitchens.
Anyway, we want to restore the double deck to similar to the way it did in the 60s. Here's a simulation:


The arrow is pointing to a missing corner that was originally for a walkway onto the deck. We ultimately removed this cut-out and split the long room into two bedrooms.
Here's the first page of the permits:
reinhardt1
Demolition: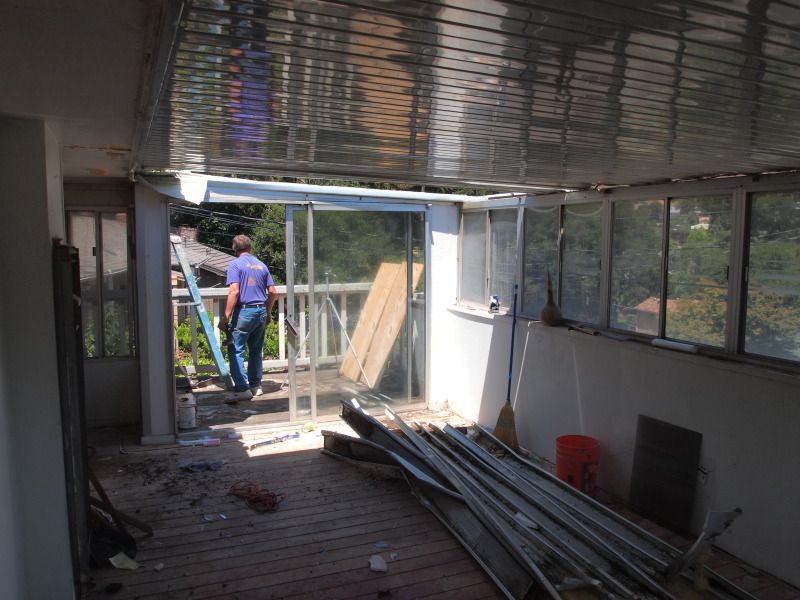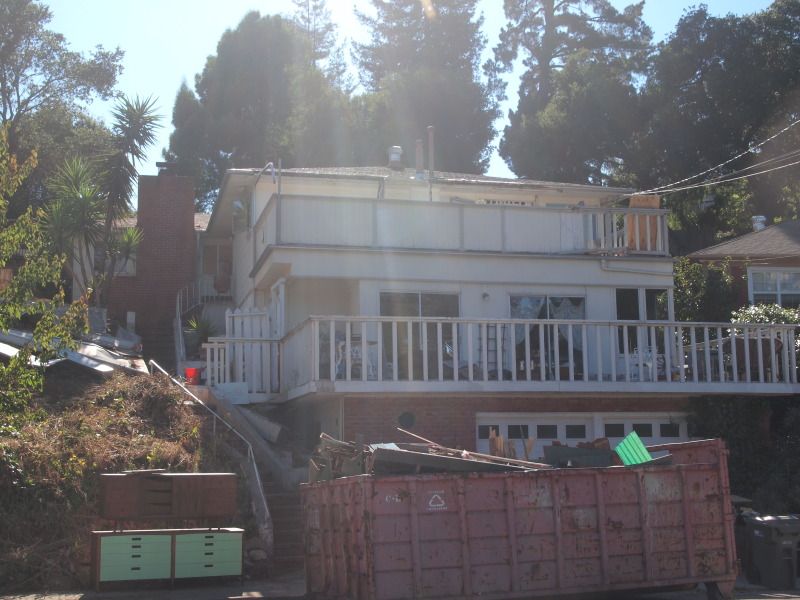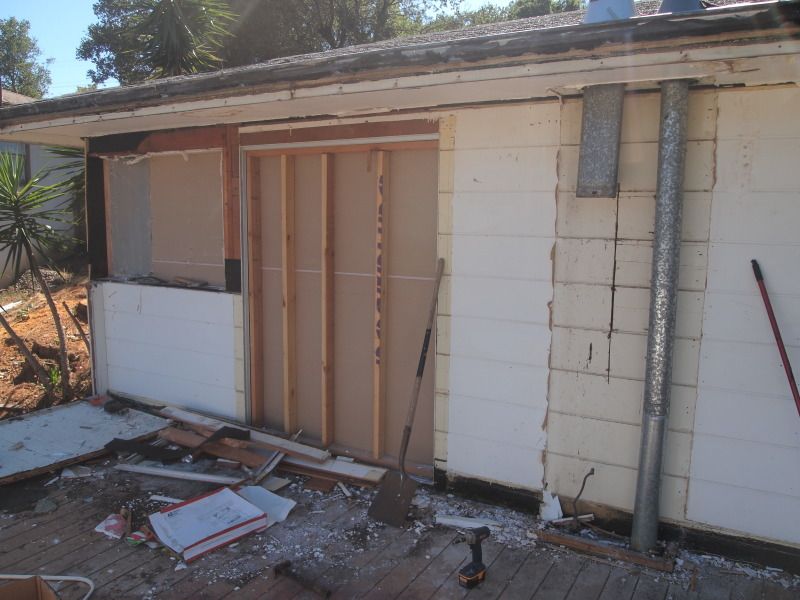 Above is where the old sliding door and corner window were uncovered that used to look onto the upper deck


Above you can see the house used to be symmetrical
Below: LOOK AT ALL THE LIGHT NOW ENTERING THE BEDROOM!!! This is how you can easily see how much better this new/old setup will be.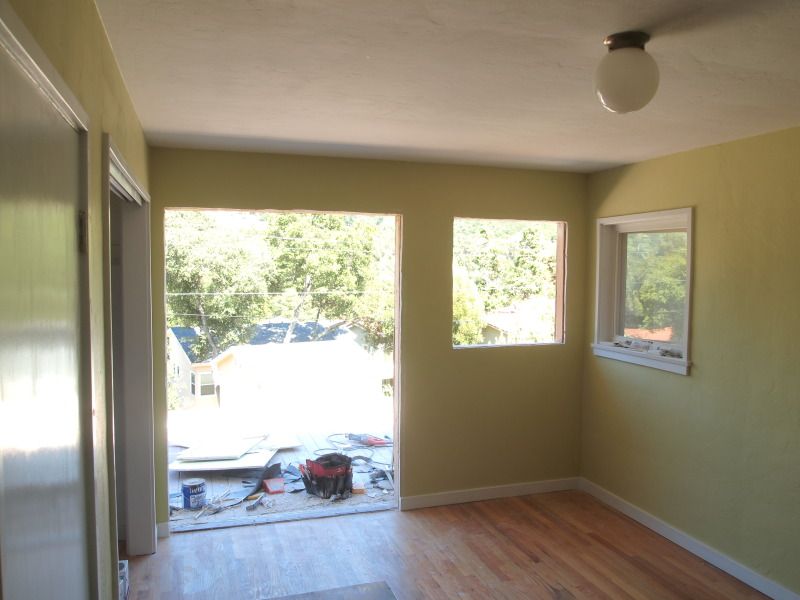 Below you can see that the corner window was reframed and the siding repaired because we are no longer using windows that go all the way to the corner: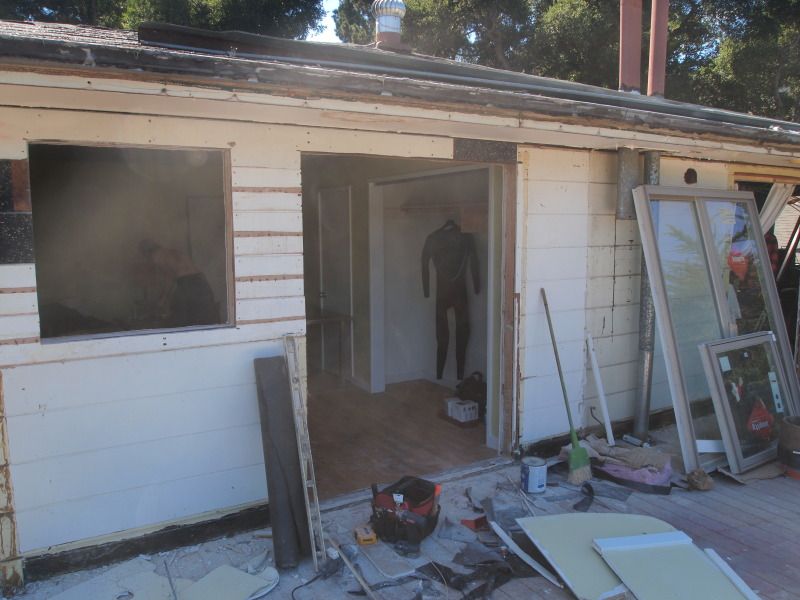 Enjoying the new deck: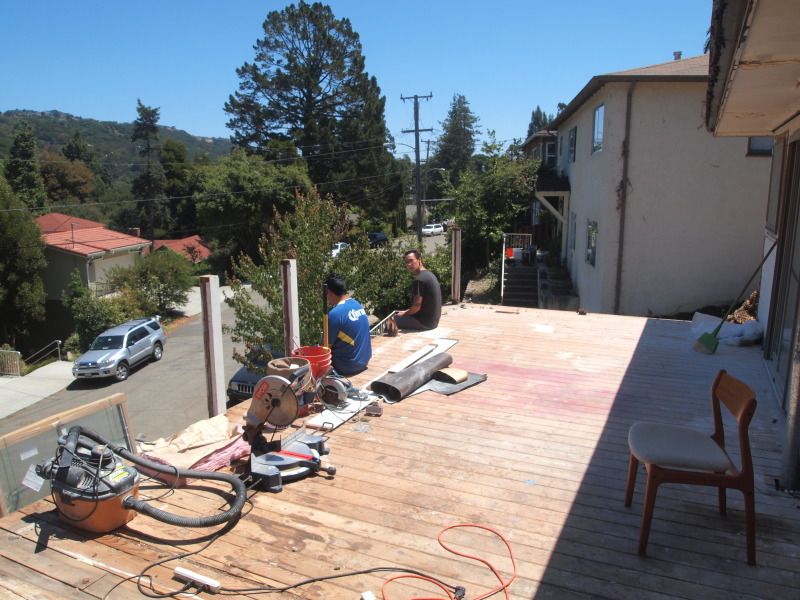 Here is the other corner window which has to be reframed: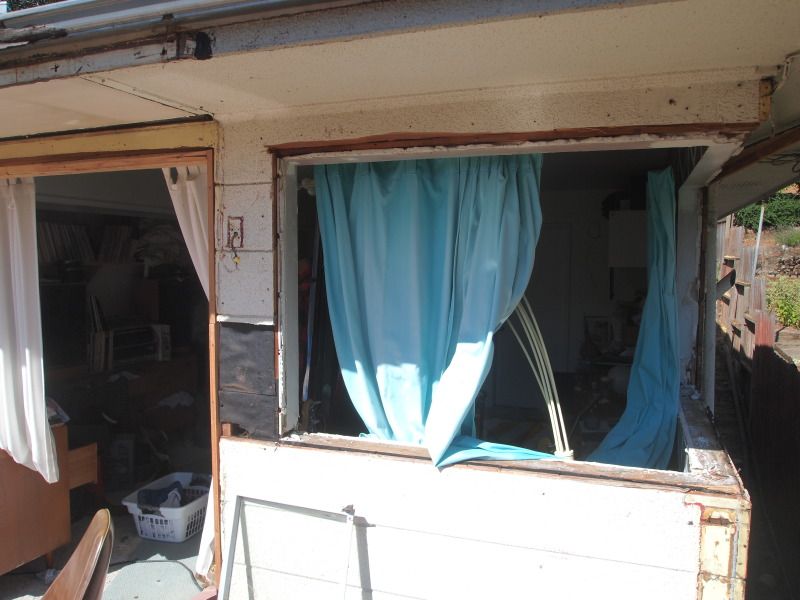 Done: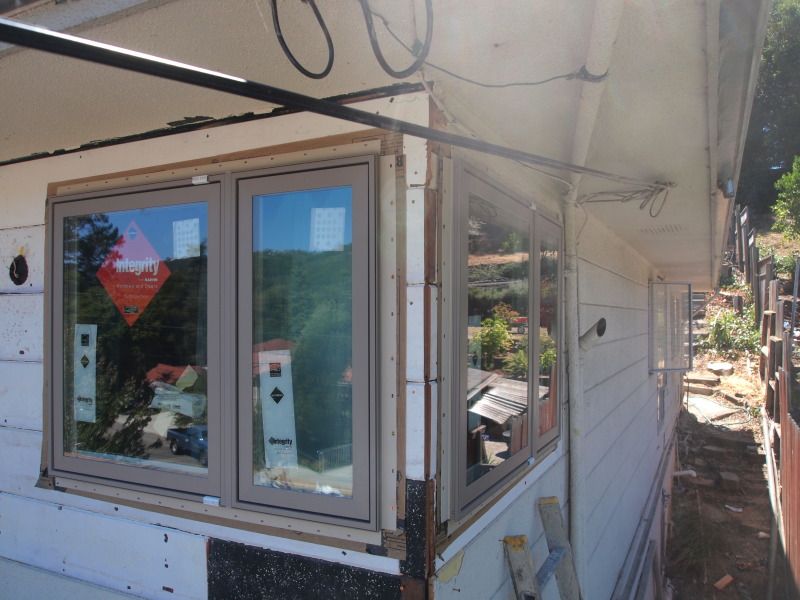 Side View: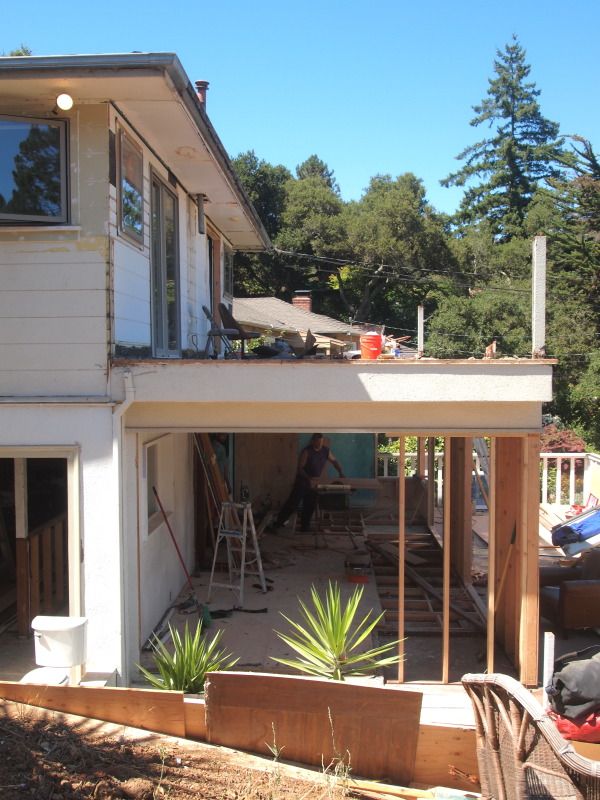 The lower bedroom was framed with beams and posts rather than studs so it had no room for electrical or insulation. So we had to reframe it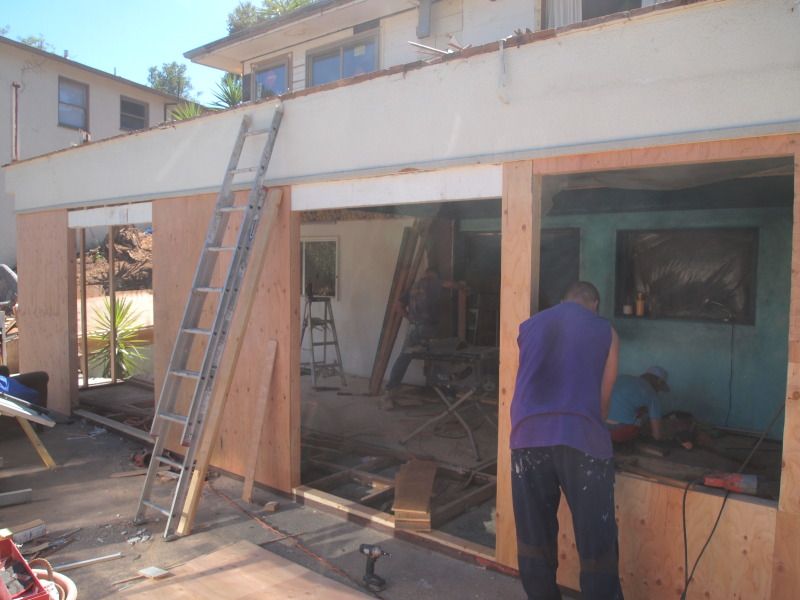 My Dad and my friend Mark, a couple of the consultants on the job.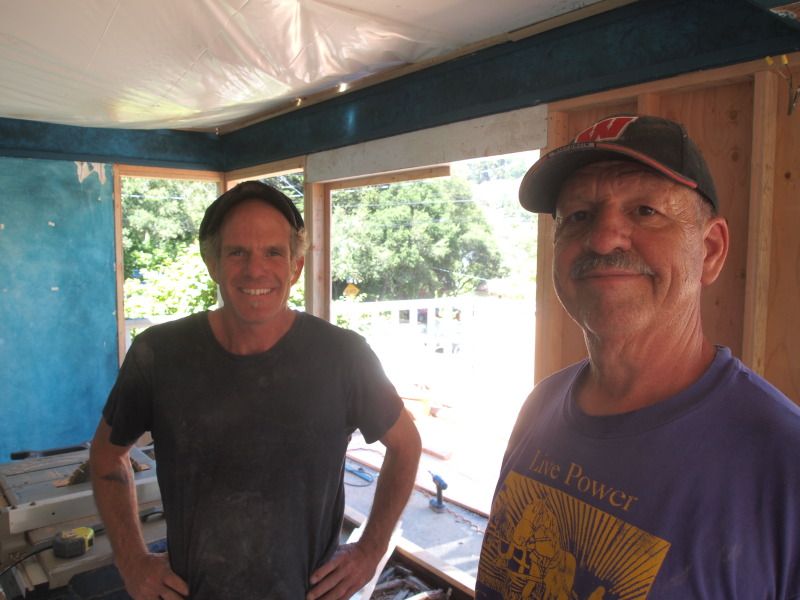 Windows and doors: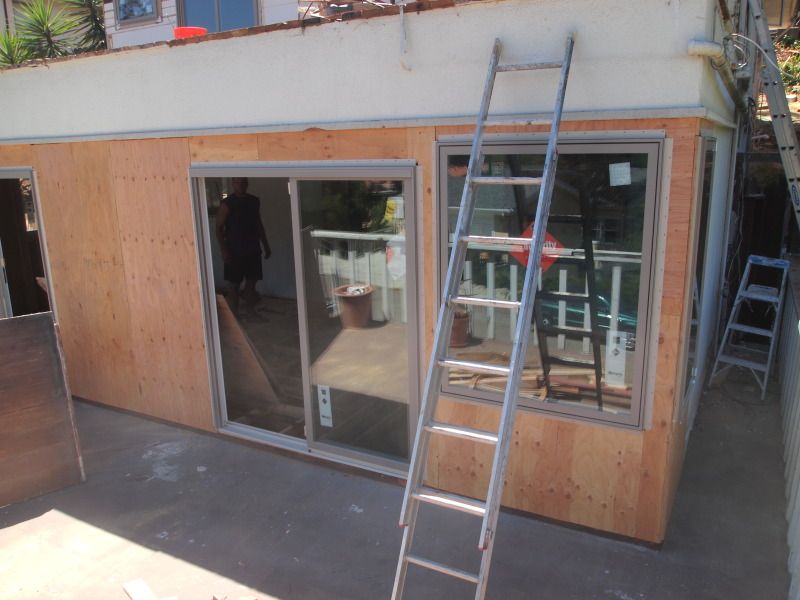 Next up: reframing of the upper deck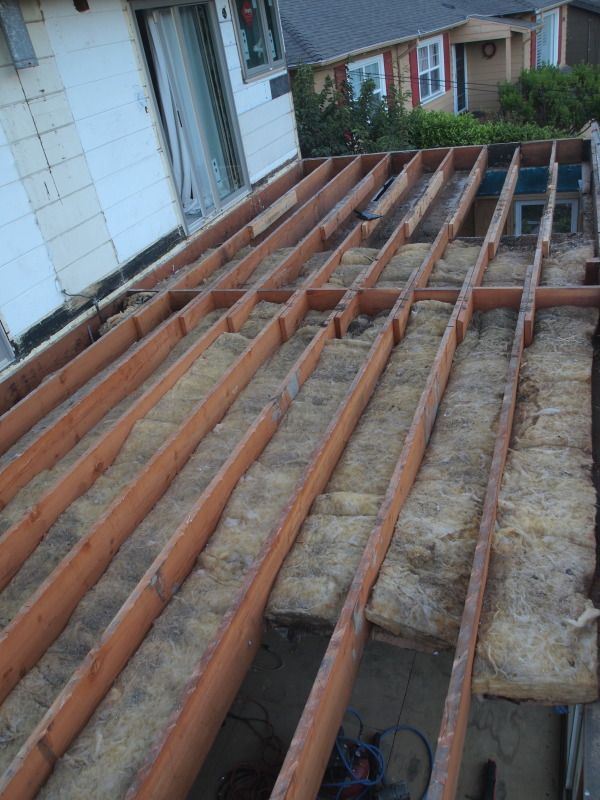 ---
In a world of ugly big box retailers generic light fixtures, expensive over the top high-end light fixtures, and the difficulty of finding cool, vintage light fixtures in good condition – sometimes the best choice is to work with an existing light fixture and modify it to fit your needs. This is surprisingly easy to do! Here's why
+ Nearly all light fixtures and lamps have a standard size rod running through them so they're like beads on a string – very interchangeable. The rod sizes, and corresponding parts, are 1/4″IP and 1/8″IP, the 1/4″IP being most common
+ light wiring is incredibly simply – so is changing the bulbs to a different size, shape, color or brightness.
+ almost every part of a lamp minus the body is available at your local hardware store. My local ACE has a box of misc. hardware labeled "lamp parts"
As you can see, the current set up I have is a bit clashing – a 60s "space age" style chandelier and a new and dainty Ikea chadelier mimicking a style of light fixture that would be more appropriate in a home that's 100 years old and not so much in my MCM home. Separately they're fine but when I saw this light fixture at the thrift store for $10, I had a flash of inspiration to make something that better matches the vintage 60s chandelier I love.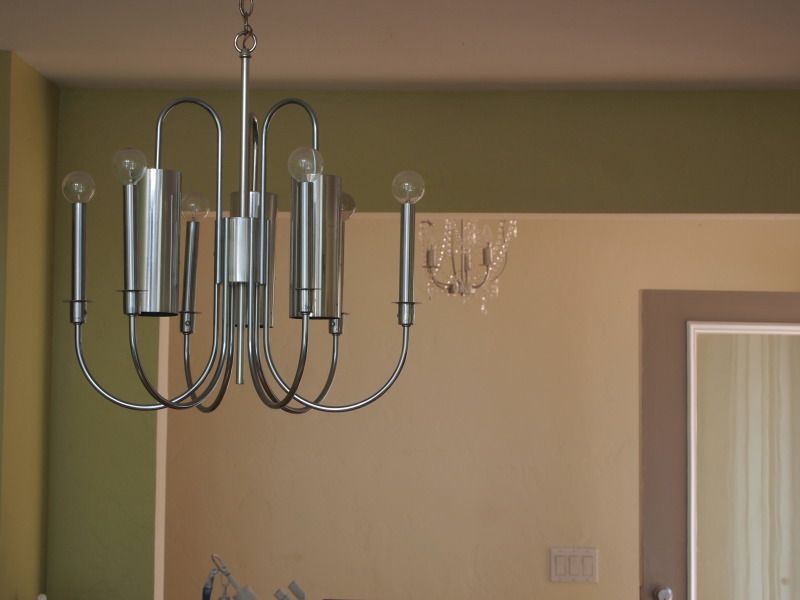 1. The first step was to disassemble the old light fixture, which was already missing what was likely ugly beveled glass pieces that used to hang off the rods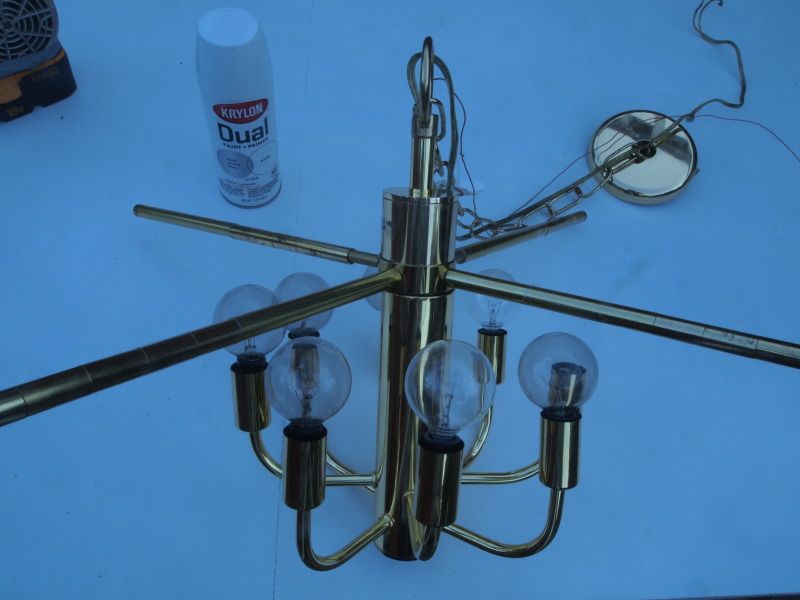 and take out unnecessary parts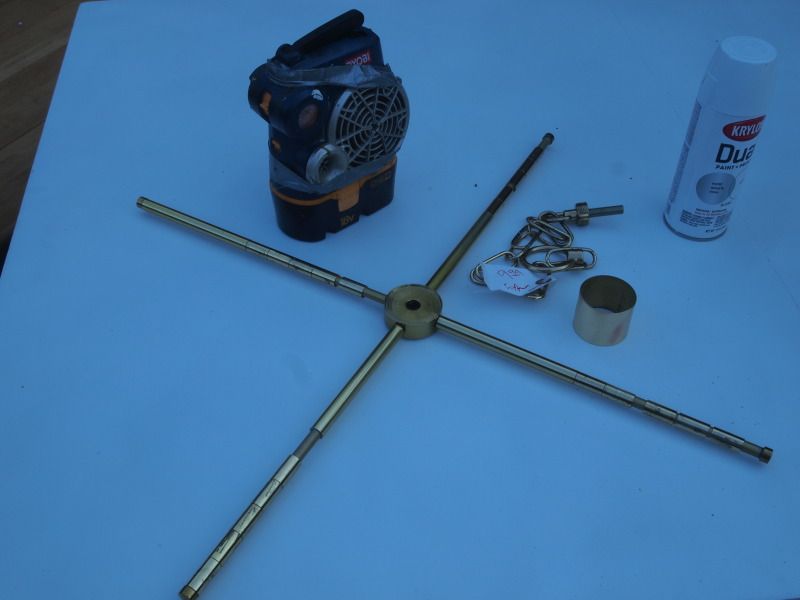 2. Reassemble as I imagined it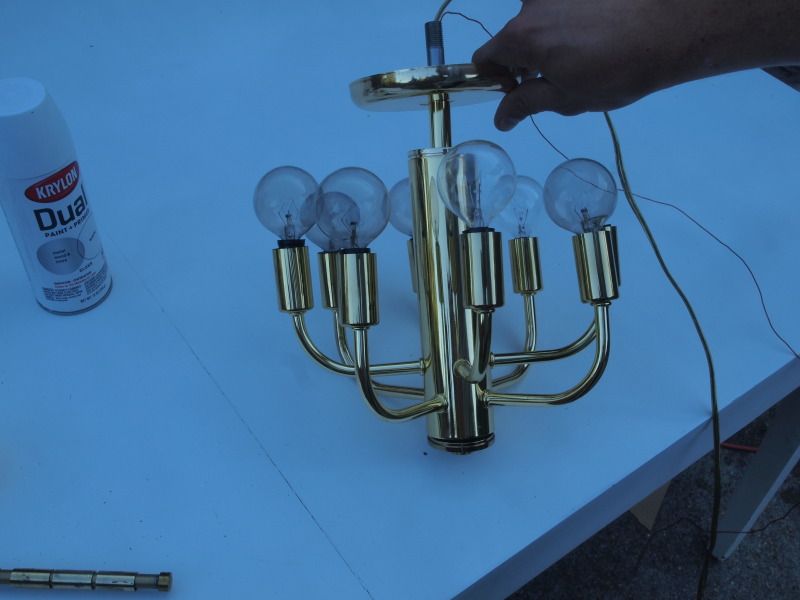 3. Then it's time to figure out what parts I needed from the hardware store. Since I am simplifying the light fixture, I only needed one piece. Since I have low clearance in my mid-century modern home (8ft ceilings), I wanted to shorten the rod that goes from the body to the swag chain (yes that is really what it's called).
The original was steel and they didn't have a replacement (though a slightly bigger hardware store probably would've). So I went into the plumbing section and got a section of galvanized pipe, which turned out to be a huge P.I.T.A. Because the pipe had a coating on it (galvanic coating for rust resistance), the pipe was slightly bigger than the old steel pipe and had to be sanded down with an angle grinder and palm sander. PRO TIP: use the right size part, dummy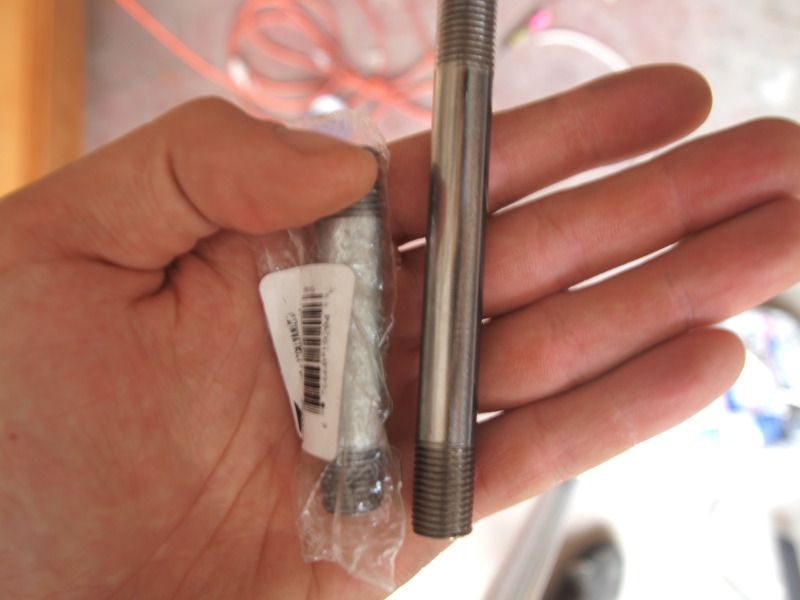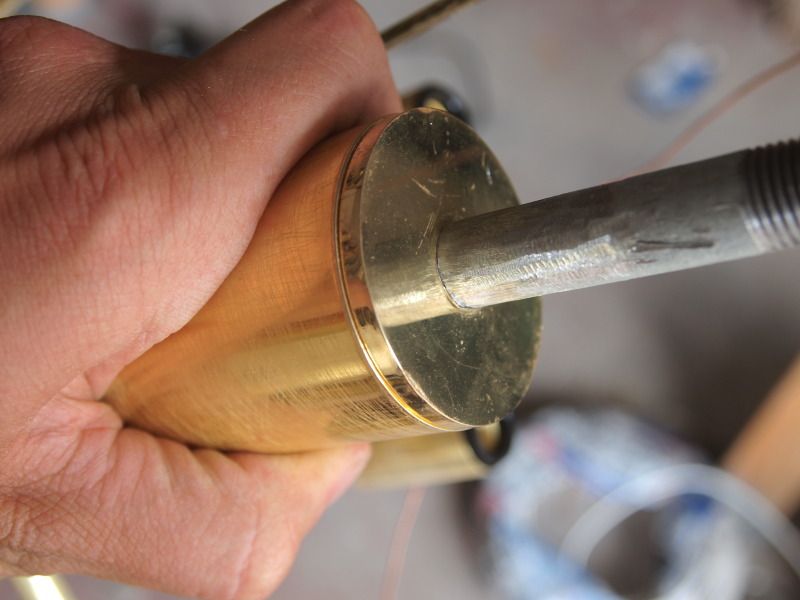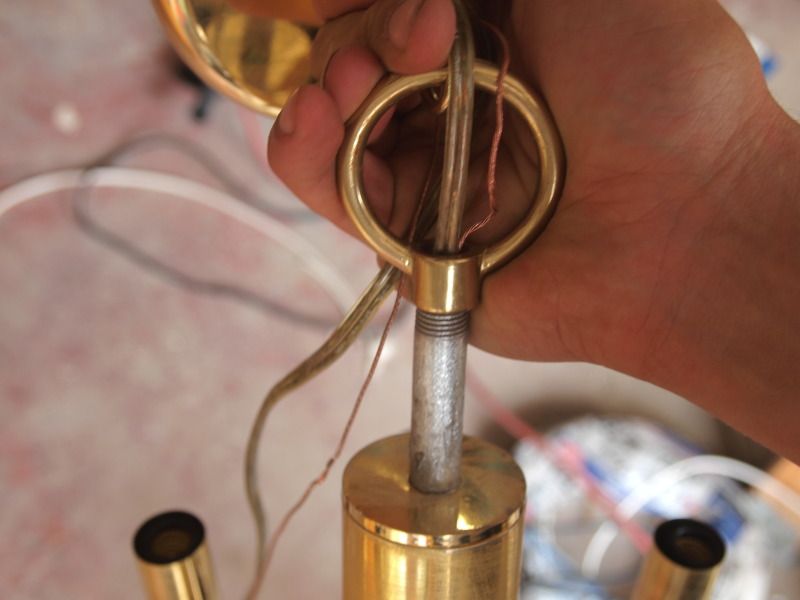 4. Put it together and paint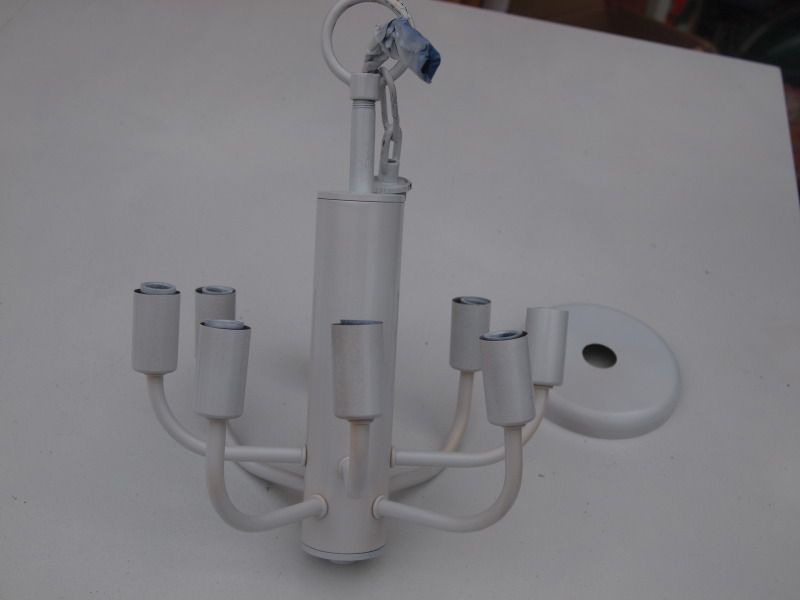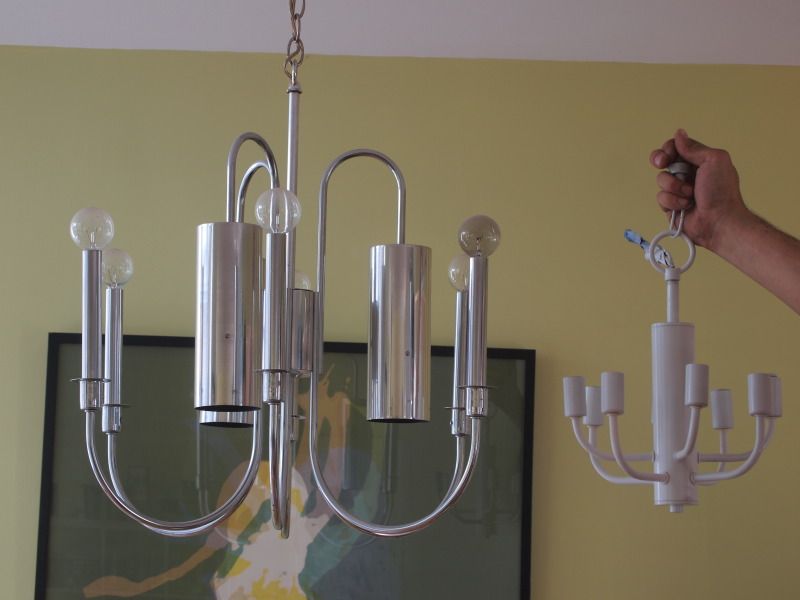 5. Install with new bulbs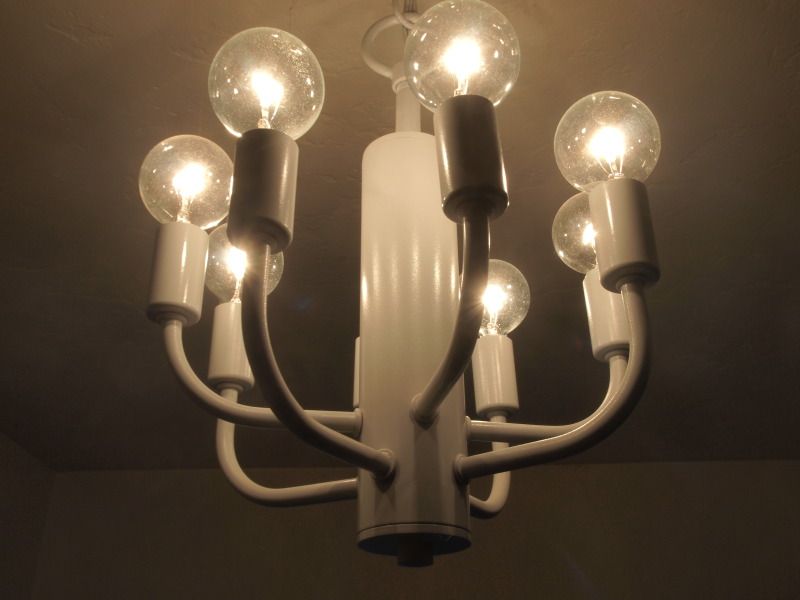 6. Be super proud of your handiwork

---
I recently came across this charming couch for free on the sidewalk.  I was elated!  But after sitting on it, the cushions were so lumpy I thought someone had stashed bags of coke in there.  In fact it was just the original polyurethane foam which had degraded into hard lumps and lots of dust which looked like corn meal…
So I emptied out all the cushions and did some research online.  I found the cheapest way to get a lot of foam is to buy a used all-foam mattress.  I got a king size for $100 from craigslist that was damaged.  Look for mattresses that are not pristine, because the fact that most people don't want to sleep on a dirty mattress makes them really cheap.  The mattress had 2″ of memory foam on top and 4″ of regular foam on bottom.
I assumed the foam would take the shape of the cushion if the foam was too big for the cover, but I was wrong.  You actually have to get the cushion just the right size for the cover, which is exactly 3″ thick.  I split the layers of foam and tried the 4″ foam first.  Too big.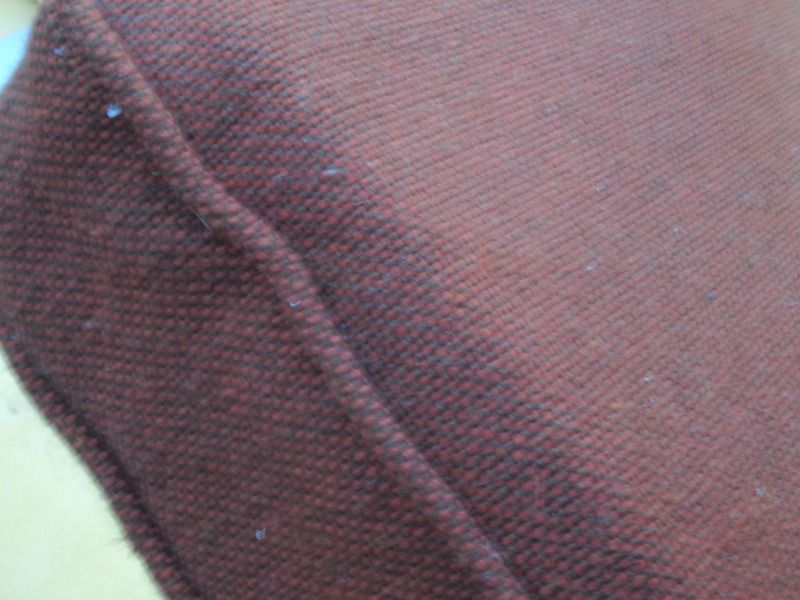 And the 2″ memory foam was too small.  So I went to the fabric store and got some thick, 1″ batting.  I squished it lightly with my finger and it appeared like 2 layers of it would compress down to make up the extra 1″ I needed to add to the 2″ memory foam and get the 3″.  The result feels really squishy and good!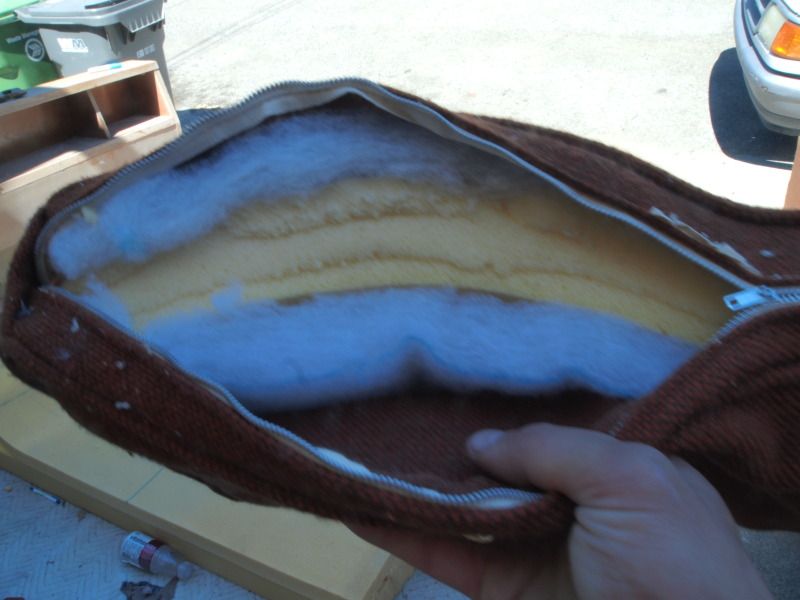 While I was at the fabric store, I saw that they had foam pieces but they were expensive.  It was around $60 bucks for a piece which was 2×6′x3″ thick.  My matress was cheaper because I got 4 times that but I also had to do a lot of work to make it the right size and now I have a bunch of extra foam in my garage.  Now I have to re-foam another couch to feel like I made the right choice buying all that extra foam.

I also refinished the wood around the edges and cleaned the upholstery. 

---
Gotta love the excitement of ordering a whole bunch of weird windows and HOPING, PRAYING that they're all right.
Here you can see my notes from the process…
A couple things to notice:
-windows have standard sizes and custom sizes: if you're doing new framing, then you can order all standard sizes or if your house was already built with standard sizes in place
-RO stands for Rough Opening.  This means the size of the rough wood framing for the window – NOT the size of the frame of the window or the finished size of the opening inside.  In general, a standard size like 36×36 will mean a 36×36 Rough Opening and therefore a 35.5×35.5″ window frame
-custom sizes are for odd sized windows that you want to replace but you DON'T want to re-frame.  There is a small fee, maybe $50/window, but that will almost always be cheaper than re-framing the opening and doing drywall/siding repair.
-the sliding doors we ordered DO NOT come in custom sizes so if you don't have a standard size sliding door, you have to figure out if you want to make the opening bigger or smaller.  If you have large trim, you can get away with making the door up to maybe 4″ smaller and cover up the gap with trim.  If you don't have large trim (40s or 50s and newer modern style 1.5″ trim) then you may have to re-frame the opening and make the door slightly bigger or make it smaller and repair the siding and drywall to make up the difference.   So in general, if you must have a standard size door, hopefully the rough opening is just a little bigger rather than a little too small.  For example you'd probably want the rough opening to be 74 1/2″ wide max for a 71 1/2″ (standard 6′ sliding door width) door instead of the rough opening being 78, where you'd have to re-frame the wall for the next standard size, like 7′ or 84″
---
Hello all
Check out this kitchen design I made for the neighbors. I'm excited about this project! After many many tweaks I think we've got the final layout and cabinet choices.
---

I got these chairs from a hoarder's house for very cheap but they were in terrible shape. I saw the bent plywood and Thonet tag (surprisingly pronounced tone-ET) and pulled them out of the rubble along with a very rough Lane coffee table. The chairs are definitely inspired by the Eames plywood chair, pictured below.

I decided to refinish them because the plywood was in such rough shape and I knew the wood could be restored to like new condition. The vinyl was rough too but I don't have the upholstery skills to do the seat back which has binding covering the seam.

Original condition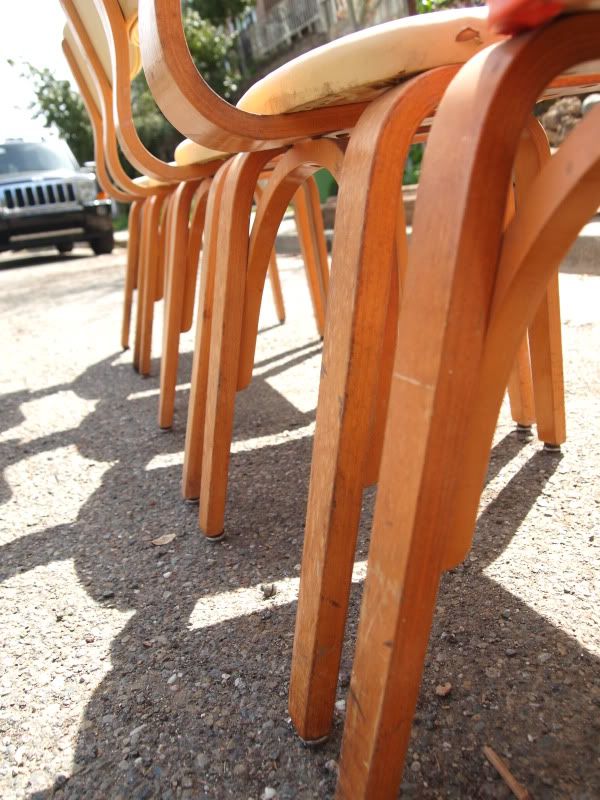 First I dismantled all the chairs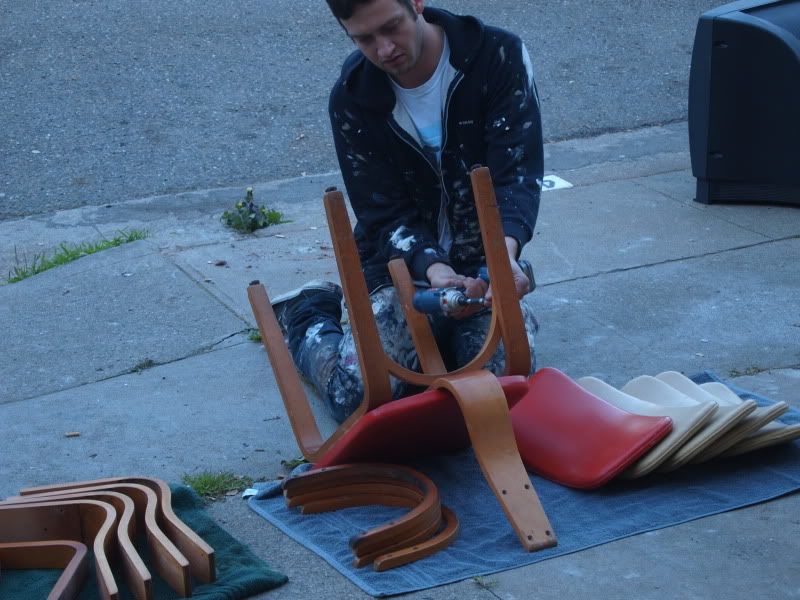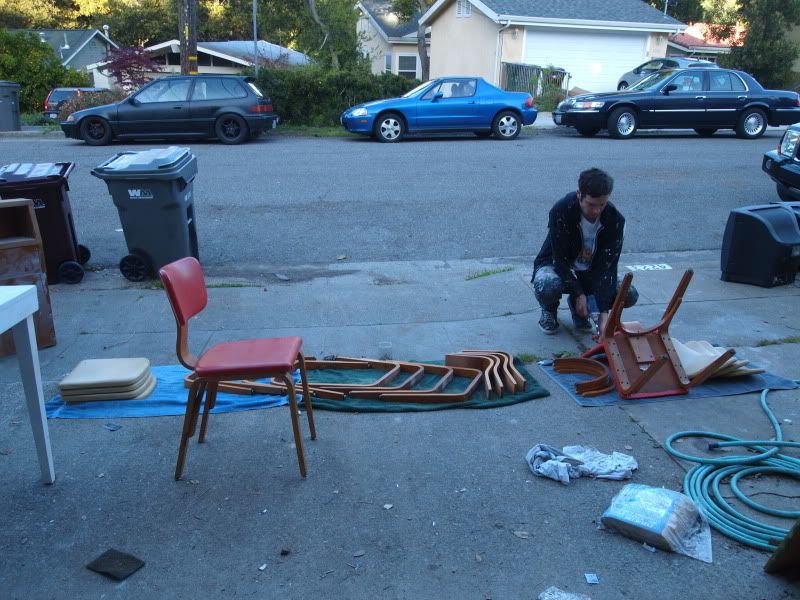 Sanded all the parts


I stained them so they would be yellow and look as old as they did before I took off the varnish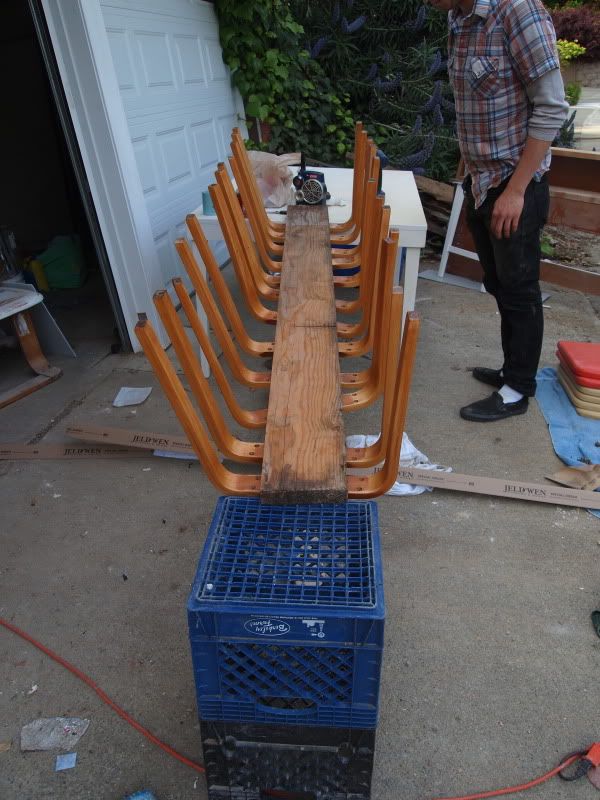 Reassembly and 2 coats of tung oil.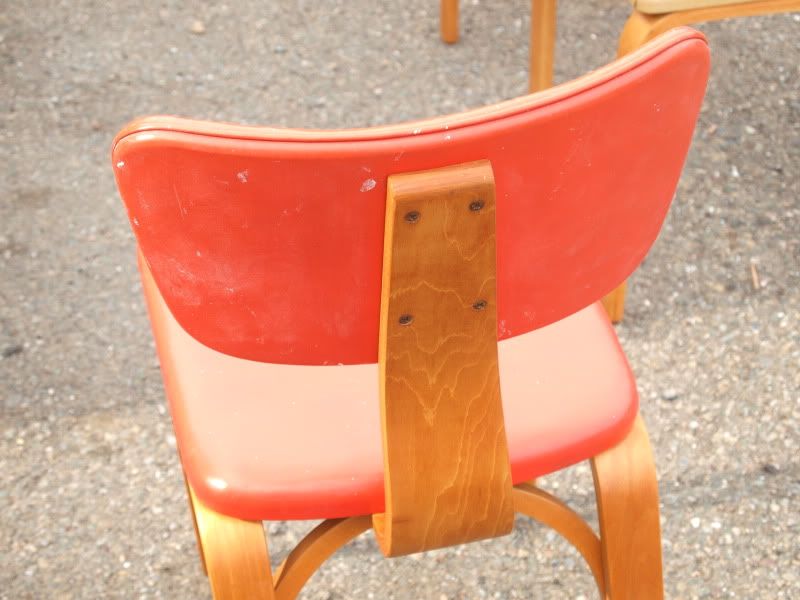 I think the finish on the plywood turned out awesome, don't you? Sold these for $400.
Here's the Lane coffee table. This was a popular model, which makes sense because it looks really good. You can't see it very well but the old top was trashed – a nasty old dark brown refin, deep scratches and paint splattered ALL over it. Fortunately everything sanded out and it looks amazing!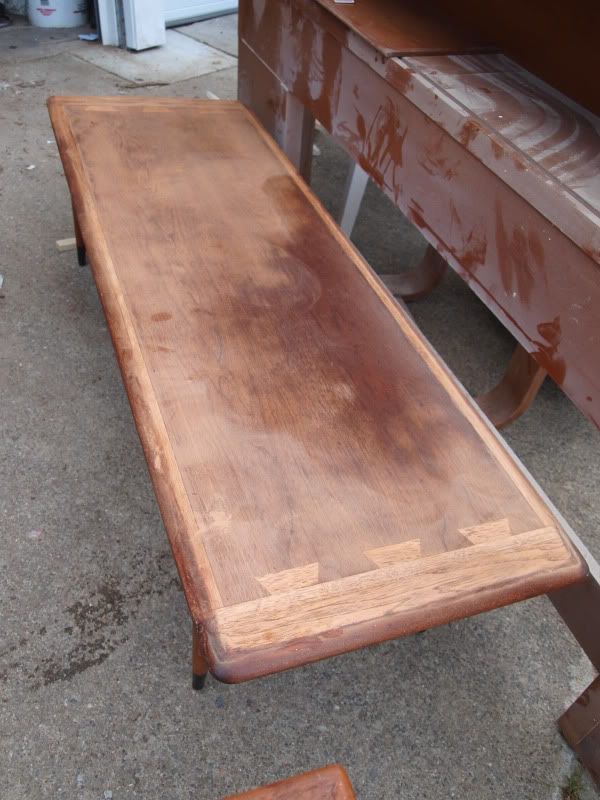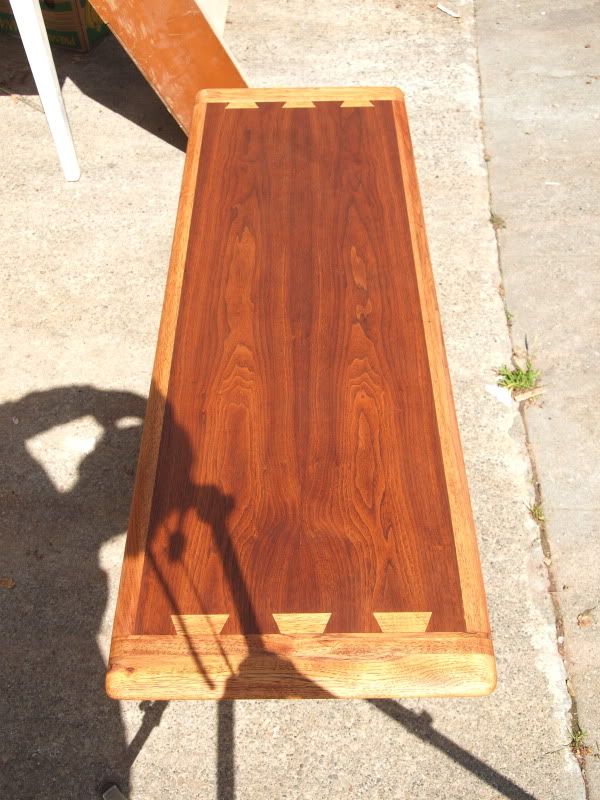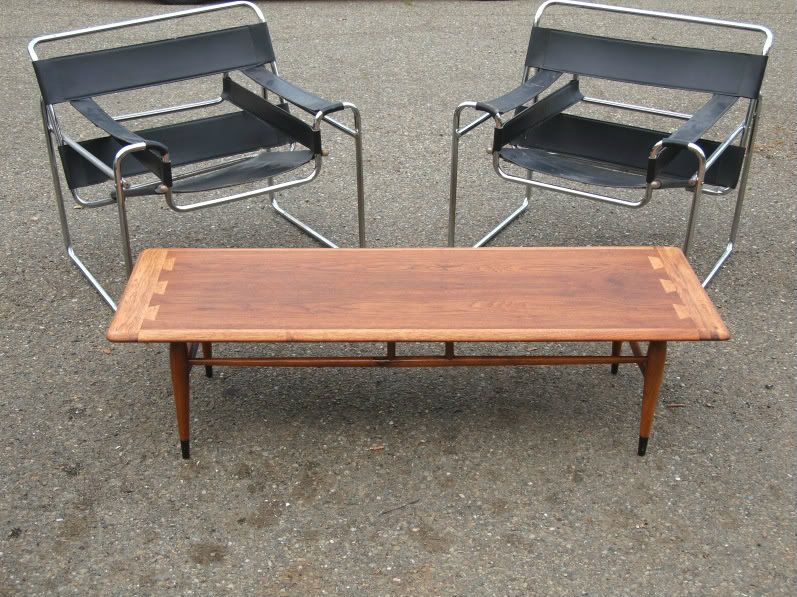 ---
Hello all, I thought I would document this kitchen backsplash process because there are a lot of different ways to do it. Some of your options…
-use thin-set mortar to tile on painted drywall – not very strong but probably adequate considering kitchen remodels seem to be built to last only last 10-15 years these days.
-use thin-set mortar to tile on cement board – very durable, what you would use in a shower but the backsplash is exposed to much less water. Would probably last over 100 years before tiles started falling off
-stick-on tiles – seems sketchy but probably works as good as the first option

So I used cement board but that was because I needed to bring the tiles out from the wall a bit for two reasons. Don't know why but there was over an inch gap between the back of the range top and finished drywall. After adding 1/2″ hardibacker to that wall and tiling it, I had it down to about 3/8″ which is much better.
On the wall with the window, I wanted the tile to be nearly flush with the trim and also cover up some gaps left between the wall and cabinetry. Otherwise I would've had to get some trim (like quarter round) and put it around the edges and that looks cheesy in my opinion.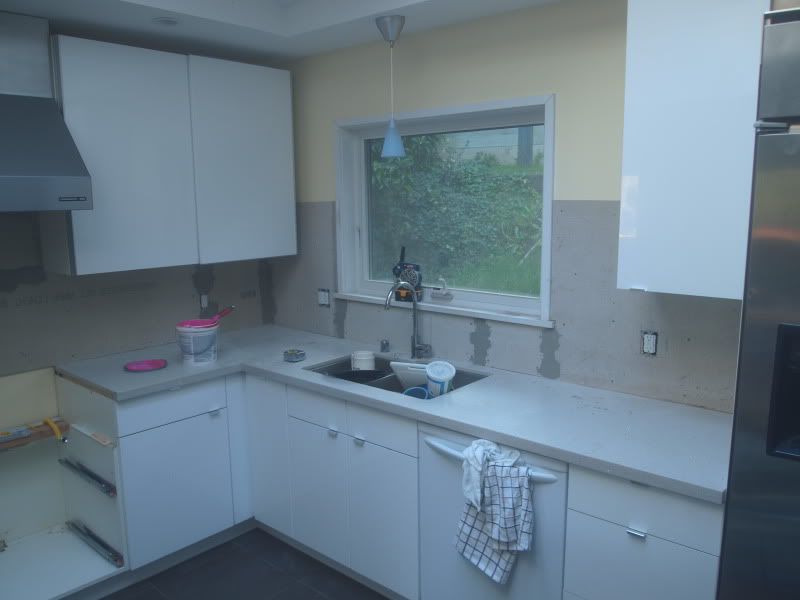 The glass tile box recommended a special type of thin set. My kitchen was taken apart before I realized this (no time to order the special stuff) so I used some red guard which is a "crack suppressant" instead. The glass tile, Daltile Glass Reflections, is very thick, at least 1/4″, so I really doubt it would crack but hearing horror stories of coming back the next day to find all your tiles cracked was enough to warrant the extra step. The red guard is pictured below and is pink until it dries red.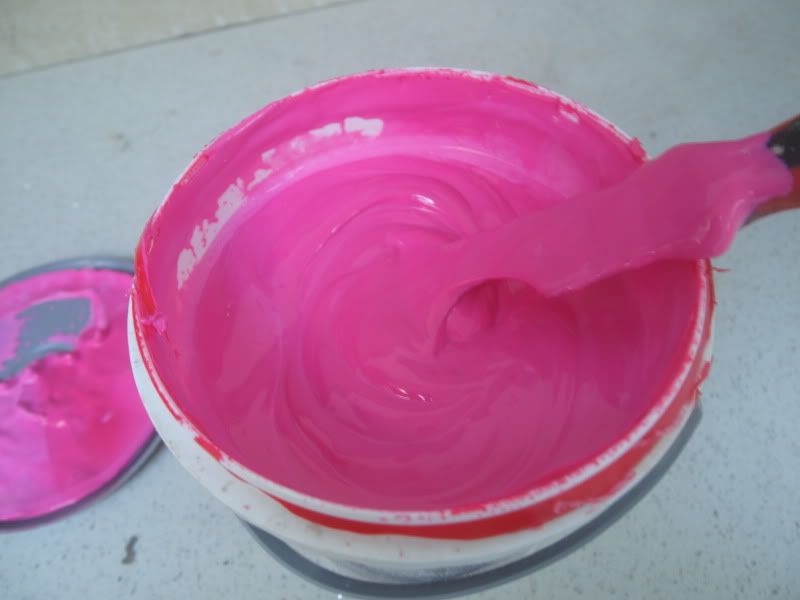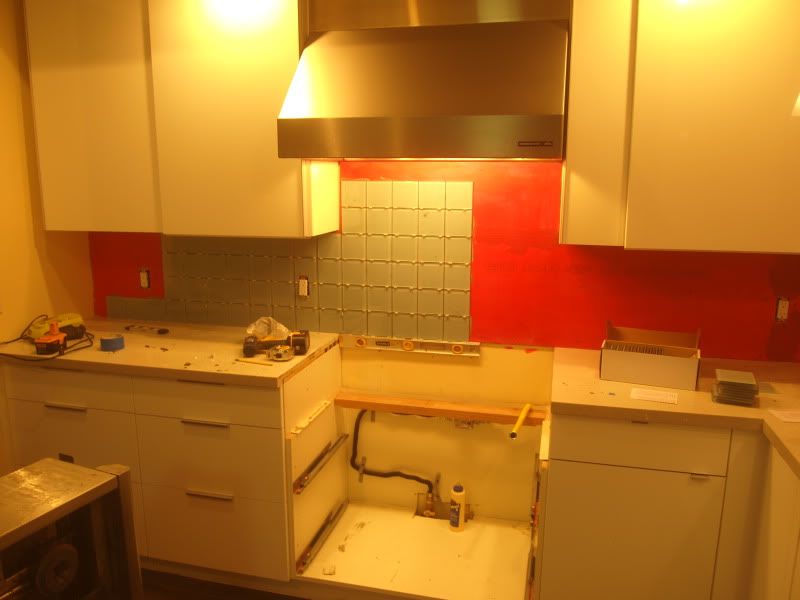 Tiled: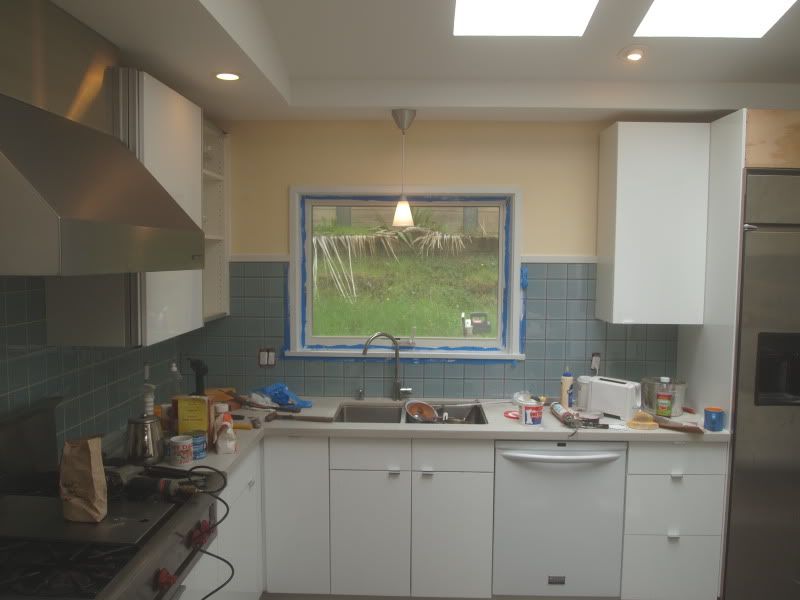 Grouted:

I used urethane grout which is outrageously expensive (10x that of normal grout) but it's easy to install, doesn't need to be sealed and should last forever without stains. Regular white grout would become dirty and stained quickly because moisture can travel through it meaning mold or bacteria can grow in it. Oil or other scum can also get locked in. Urethane grout is waterproof and extremely durable so it can be scrubbed clean of surface dirt that gets caught in the texture on the surface. Another option is epoxy grout which is just as durable and much cheaper but very hard to install because epoxy is a nasty, sticky mess which is hard to wipe off the surface of the tile during the clean up phase of the grouting process. So although the urethane is extremely expensive, it should be bright white for many years to come (or I'll be really disappointed).

The tile looks really good but I'm having a hard time finding color to go with the gray blue/green tile. As you can see the bright blue looks kinda cool but tile has a lot of grey in it so I think I need to match it with a more neutral color.
---
Check it out! Pretty much done
Still needs a glass shower door and some paint touchup but I'm getting pretty excited about taking it for a test drive. I love how this tile turned out. The floor needs to be sealed still which will make the black slate match the mosaic tile better. I had the mirror in my room and I put it up because it fits pretty good but I'll probably replace it with something a little wider. Finding finishing touches like the perfect mirror just takes time shopping around.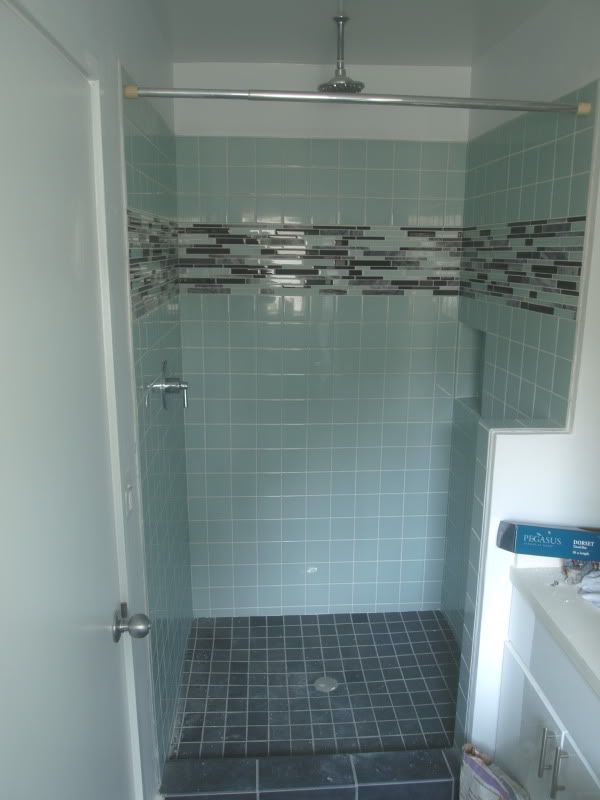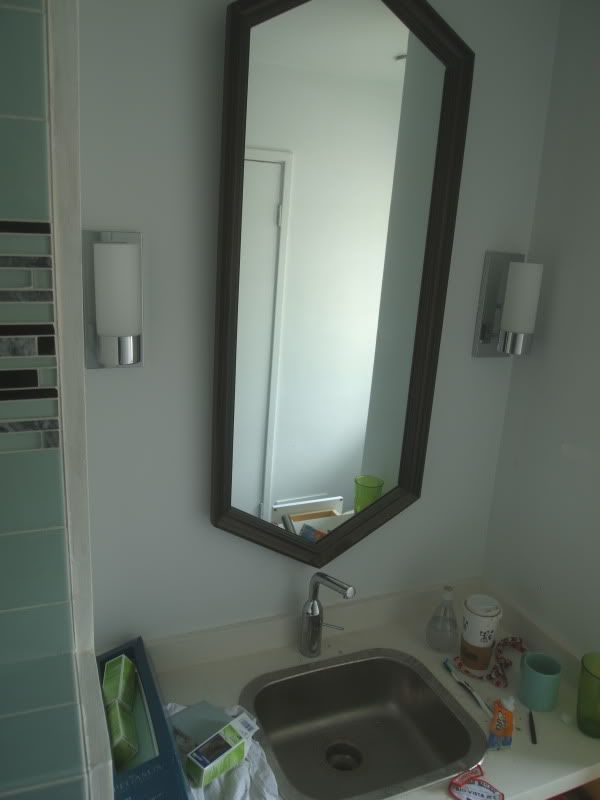 ---
My first voyage into furniture making… I made this little side table out of wood scraps from my house. The top is made out of 2″ wide red oak tongue in groove (7/8″ thick) from the hardwood floors upstairs and some 1″ plywood that I had used to make some built in cabinets. The legs are made out of a piece of oak that was used to mill thresholds for the same oak floor. I used a jigsaw to cut through the top to glue the legs in place and filled in all the holes with wood putty.
---